After many revisions our play garden in the backyard is coming along. On Sunday I got the framework done for what will hence forth be known as Nature Fort, formerly know as The Gourd Fort. Turns out the growing season for Bird House Gourds is really long. But thanks to the great employees at Mother Earth Gardens I found some climbing beans and cherry tomatoes that should work great instead. I can see why the City Pages named them Best Garden Center of the Twin Cities.

In addition to Nature Fort, we've created a new area for perennials. I don't remember everything we planted in there but mostly it's poppies. For a path through the flowers I used some small logs I had and buried them half in the ground to make a path of "balancing posts". Q's kung-fu training has begun.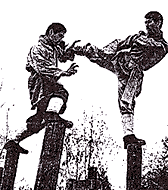 I'll post real pictures of everything on a more ambitious day. For now I just need to get to sleep so we can go run around in a proper garden, the sculpture gardens at the Walker, before we hit Arty Pants tomorrow.